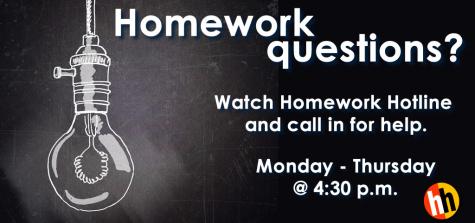 HOMEWORK HOTLINE: Where Kids Get Help With Their Homework
The Season Kicks off September 12 at a Brand New Time – 4:30 p.m. on WXXI-TV
(Rochester, New York) August 24, 2016 -- Homework Hotline is back! The live call-in show, where kids get help with homework problems on the air and online, kicks off its new season on Monday, September 12, 2016.
The show has a brand new time – LIVE at 4:30 p.m. Students and families from all over New York State can see the show on their public television station Monday-Thursday (Check your local listings). And, a live Webcast on the show's website, homeworkhotline.org, means anyone who needs help can see the show from their computer or phone.
Homework Hotline is funded in part by the New York State United Teachers (NYSUT) and produced by WXXI, Rochester, in association with the Rochester Teachers Association and Dial-A-Teacher.